Planning your family vacation this year will definitely include some additional planning. Things are quite different now and we have to consider all of the safety protocols that are required when traveling. Remember, protective measures won't all of your fun away.
COVID-19 Testing
You have probably heard that planning a summer vacation this year will probably include having Covid test prior to your departure. Remember to pay attention to CDC rules for testing. Currently, the CDC is mandating that all air passengers coming into the United States need to show that they have had a negative test result before boarding a flight—even U.S. travelers returning home. They also recommend getting tested one to three days before you travel; and keep a copy of your results in case you need them!
Beware of Quarantines
Most domestic destinations don't require travelers to quarantine, but the CDC recommends that if you do travel, get tested three to five days after returning, and then quarantine for seven to ten days. Depending on the spread of COVID, the CDC may update these guidelines, so you should keep this in mind when you book and have options for alternate plans. Some of your destinations may require quarantines for arriving visitors. Make sure you know what the local recommendations and mandates are before you head out to your destination.
Purchase Travel Insurance
It will be more important than ever to have travel insurance this summer. With the uncertainty of what airlines and governments will do if they see a rise in Covid cases, it's best to be covered incase you need to cancel your vacation. Make sure that the insurance covers Covid-19 related issues.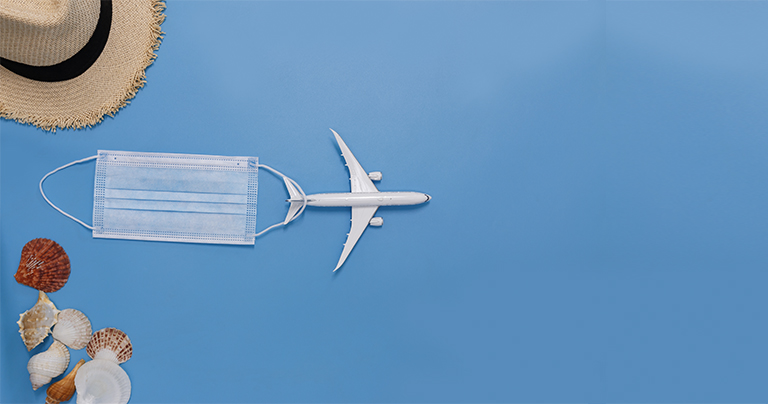 Have You Been Vaccinated?
Those of you who have decided to get vaccinated need to check what documentation you will need to show when you travel. Also, many travel protocols such as COVID-19 testing and mask-wearing will most likely still be mandated even if you have been vaccinated.
Social Distancing and Mask-wearing
Keep in mind that in many areas, guidelines for social distancing will likely continue through this summer and most destinations will probably still require you to wear a mask. Make sure that you bring the required PPE with you so that you aren't caught off guard while you are away.
Follow Local Guidelines
Be aware of local guidelines when traveling this summer, as some destinations have stricter protocols for residents and visitors. Check local government websites to find out what their rules are.
Driving as an Option
Planning a successful summer vacation may look different - driving may be easier and more accessible. If you are looking at planning now, drive destinations seem to be easier than flying. Renting RVs has become increasing popular, and vacation rentals allow for a lot of flexibility. Another option is the all-inclusive resort, as staying in the same location with everything at your fingertips may make you feel safer.